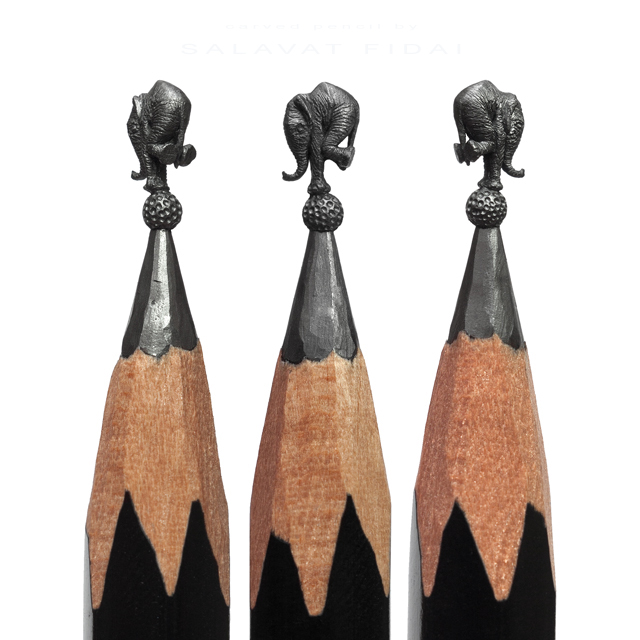 Mit Bleistiften kann man Schreiben, Zeichnen oder man macht daraus Kunst. So wie der russische Künstler Salavat Fidai.
Image Courtesy: Salavat Fidai
A little about Salavat Fidai
Salavat Fidai is a 43 year old Russian artist who creates jaw-dropping pencil head art sculptures. Both of his parents were artists, yet he chose a career in law. After loosing his job more than two years ago, he chose to pursue his dream and became a freelance artist. Even though he is most renowned for his miniature sculptures, he is also an amazing painter. His work has been reviewed in many magazines and websites from all over the world.
The process to complete his miniature sculptures involves a 4x magnifying glass, a craft knife and an incredible amount of patience and skill. Most of the time it takes up to 6 to 12 hours from beginning to end, however, on some more complicated models the process can take up to three days.
Below ars some quotes from the artist himself :
"The concept for my paintings or sculptures start to take form while I'm asleep. The next day I am looking for photos and video material, then I make sketches or layouts. When I work with oil on canvas, it's more emotional and expressive. If I paint acrylic on seeds, it's hard work and detail oriented. When I carve sculptures from pencils, it's more meditative…"
"I use a craft knife and magnifying glass. In some cases even a microscope for the tiniest details."
"How did I take up such an unusual hobby? I've been making works of art for a long time, always based on experiments. In the 2000s I was fond of photography. Last year I started doing miniature figures."
"After being laid off from work, I started to paint. My parents are professional artists and art-school teachers – they taught me everything I know and handed me the baton, so to speak. I used to paint a lot during my school years. I made my first micro sculptures at school, carving them from chalk."
https://www.aviatstudios.com/2016/05/27/pencil-art-sculptures-salavat-fidai/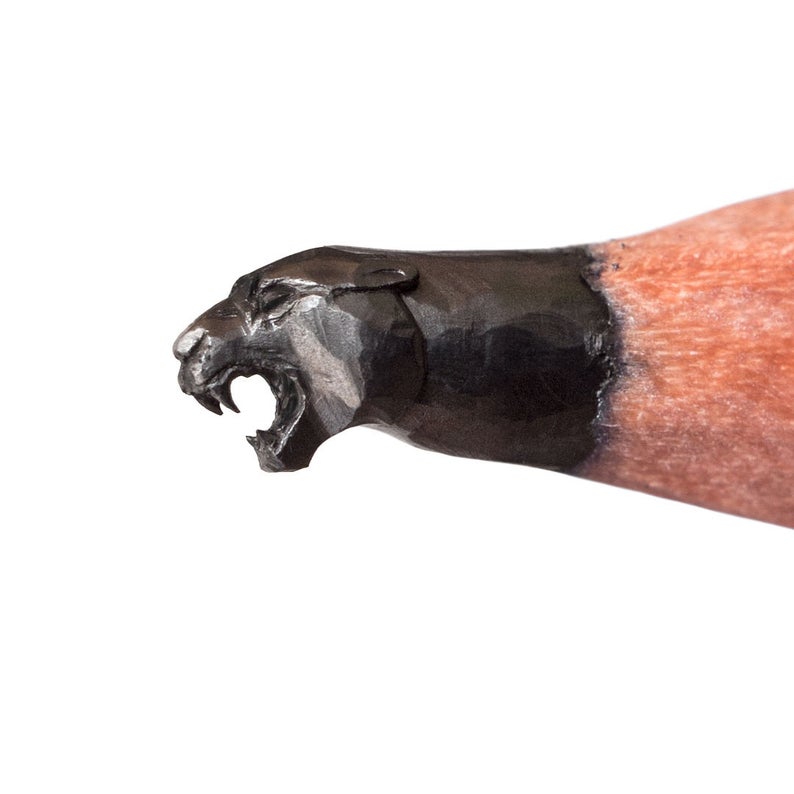 Direwolf Of House Stark Of Winterfell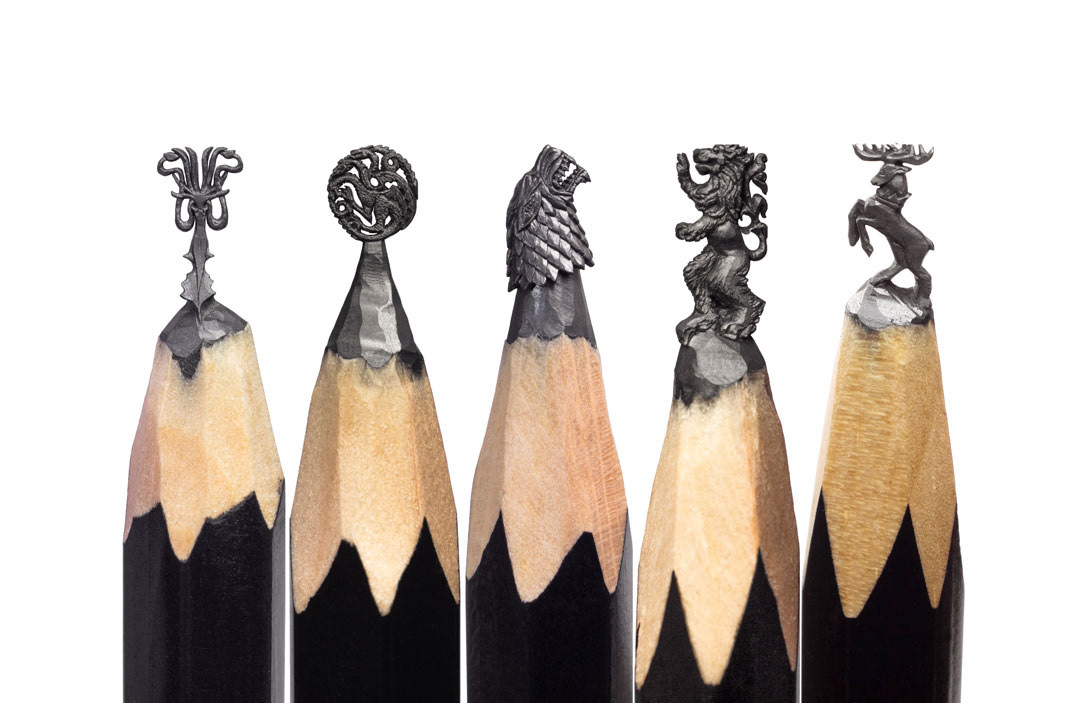 Games of Thrones
Image Courtesy: Salavat Fidai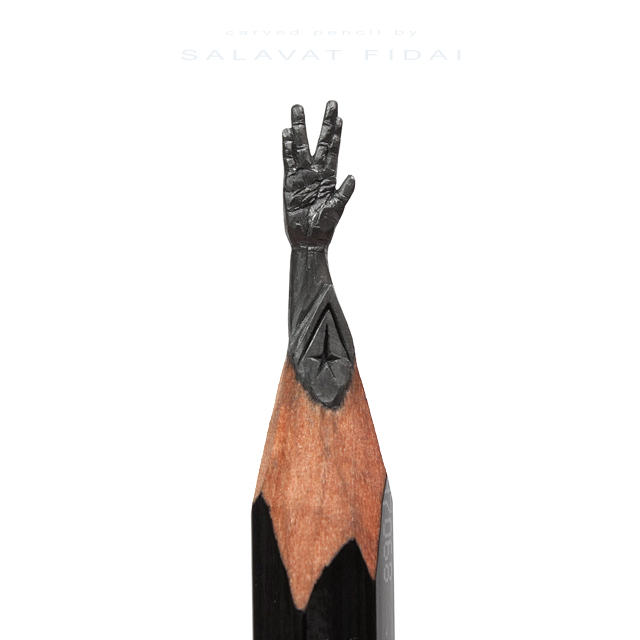 If you ever thought that the graphite pencil is usually only a tool for writing, that its structure and use strictly practical nature, Salavat Fidai would not agree with you. This russian artist has opened new horizons in miniature art and gave a whole new meaning and appearance of the pencil. Before he proved himself as an outstanding miniaturist artist, he worked as a lawyer. One day, he decided to close the office doors and fully commit himself to the art. His primal inspiration was well-known art master Dalton Ghetti. The journey has begun.
As the graphite is extremely fragile, Salavat need not only be very careful, but very patient too. Creating micro sculpture into the head of pencils requires serious time and dedication. In order to fulfill his final vision, he needs to use tools such as large magnifying glass, cutter ( X-ACTO knife ), and a thin brush.
Limitless inspiration
This freelance artist is a living proof that the mind is an incredible instrument of creation. His amazing attention to details leads to the perfect miniature sculptures. There is almost no limit to type of curves which Fidai can do. It takes him from 6 to 12 hours of hard work to carve a specific shape on the tip of a pencil. The result is always breathtaking.
Although he became famous thanks to the art masterpiece of carving pencils, Fidai shows stunning art on the box matches too. He mostly drew replicas of Van Gogh. Incredible depictions in oil on canvas is something that he also does.
Quelle: https://www.thisisbrainy.com/the-art-of-pencil-salavat-fidai/
Aktuelle Skulpturen können Sie hier kaufen: https://www.etsy.com/shop/salavatfidal
 Zum Beispiel die Skulptur STITCH.
This is an ORIGINAL graphite microsculpture by artist Salavat Fidai
Title: STITCH
Size: 5 x 7 mm
Materials: graphite of pink jumbo pencil
rod diameter 4mm
Item condition: brand new, original
Colours: Blue
SHORT BIOGRAPHY
Jasenko Đorđević (TOLDART)
SHORT BIOGRAPHY Jasenko Đorđević (TOLDART) was born on 9. June. 1983 in Tuzla (Bosnia and Herzegovina). He finished primary and middle school in Tuzla. Ever since his youth he expressed interest in miniature, and since January 2010. he has been making sculptures on graphite pencils. He was the second one in the world, and the first one in Europe to start creating these kinds of sculptures and cites artist Dalton Ghetti, who is considered a pioneer in this art form, as his initial inspiration. Up until this point he had many solo exhibits and has taken participation in dozens of group exhibits. Jasenko Đorđević's artwork can be found in private collections across the world and ever since 2013. his work has become a part of permanent exhibition in the Cumberland Pencil Museum (UK). He is also the proud recipient of the Grand Prix Award at the 7th biennale of miniature art Bosnia and Herzegovina.
Alle Bilder (C) TOLDART